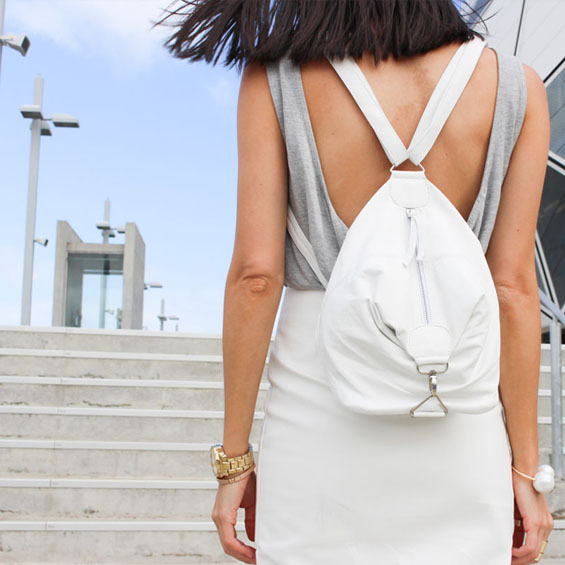 Melbourne label NAKEDVICE

has taken Australians fashionitas by storm!
They're quirky and unique designs are not only the latest trend but also with their price range for owning a quality leather bag.
They're on the top of their game!

I remember six years ago, I would work countless shifts at my first job saving for that dreamy soft leather bag that was $400… well those days are over my lovely younger foxes because naked vice price point…is on point!

I can literally fit everything in my bucket bag, Its safe to say I've fallen in love with this amazing piece.
 
I interviewed Sarah & Jessie about being an independent Melbourne label and their awe-inspiring fashion journey so far!

SARAH: I was always so interested in the fashion industry and knew that's where my heart lay, but I think it took me a few years to really figure out exactly what I wanted to do. I studied Fashion Business straight after school and then went on to complete a degree in Journalism. I really struggled then because I felt like I had all these ideas but had no way to express them and there was nothing that was igniting my passion. Having Nakedvice is such a blessing, it is so much hard work but having a creative outlet in life is the best feeling.
JESSIE:

Growing up, I never wanted to be a nurse or a teacher, I wanted to work in fashion. I had to be surrounded by it at all times, so my work life was always fashion related. I started out in retail and ended up managing a store while studying Fashion & Design at RMIT. I eventually landed my dream job as account assistant on the Sportsgirl account, before realising that I wanted to be my own boss. I believe fashion is about self expression, and designing for someone else didn't allow me to truly express myself. Nakedvice is truly a dream come true. It has created an opportunity for us to express ourselves and our own creative vision, rather than someone else's.



What first made you create NAKED VICE tell us your moment!


We met while we were both working in retail. We'd always joke about how we would one day create a label together (and take over the world). We honestly thought we were dreaming. And then the dream (after a million hours of blood, swear and tears) became a reality.


We couldn't afford 'that' leather bag so we thought: why don't we make our own? NAKEDVICE was born. World domination we're still working on.
Who is the NAKED VICE girl?


The Nakedvice girl is fashion forward yet doesn't take life too serious. Less is more. She knows the classic pieces are the essentials behind any great wardrobe. Self confidence, class and a fun loving personality shines through her style, which makes her undoubtedly a leader of the pack.
What
'
s like being an independent Melbourne fashion label?


It's a lot of hard work (early mornings and late nights), but it's incredibly rewarding. We are so lucky that we get to spend everyday doing something that we love, being able to express ourselves through our pieces.



How did you go about designing your bag collection along with finding the right leather?
We draw inspiration from everywhere. Literally every time we see something that inspires us it goes on our board and then during the design process the ideas just seem to flow. We love minimalist style and we just want to create items that are edgy yet classic.
"
Usual
"
day in the office like for you?


Coffee, emails, coffee, design meeting, emails, lunch, pinterest, coffee, skype & emails and packing and posting orders. Maybe one more coffee.

We have a coffee machine in the office. You would too.



Biggest achievement with the brand?
It's only been a little bit over year since we first launched, seeing where we are now compared to where we started has to be our biggest achievement. Nakedvice will be heading overseas soon… North America we're coming for you! We cannot wait!



Advice to all students and people who aspire to get into bag design industry?
Just believe in yourself. There is going to be really low moments when it might not seem like it is worth it, but it is. You just have to keep telling yourself failure isn't an option but it sounds cliche but it always works out.
-- Couple of quick Questions! --



I never leave the home without…




Phone and our Kelly backpack.

Do you have a "phrase" you always use?


If you believe that it isn't going to fail it won't.



Your signature look is….





Tea or Coffee?
Coffee everytime.

Be sure to follow these two amazing girls on instargam @NAKEDVICE & their website www.nakedvice.com.au

Thank you Sarah & Jessie! xxx