Sheep shearer is inspired by the old Australian legend of Jackie Howe, his record-breaking achievements and how he famously invented the singlet, which inspired Johnny to create a range of relaxed, down-to-earth and laid back clothes that guys would enjoy wearing.
 
Who is Jackie Howe you ask?
Well, Jackie Howe was a legendary Australian who not only was a champion sheep shearer but is also credited to have been the creator of what is known today as the singlet. As a muscular guy, he found his shearing shirts restrictive and impeding. One day he simply ripped the sleeves off.
 
I sat down with Johnny as we chatted all things fashion, PR and of course about his brand Sheep Shearer.


How did you come up with the brand concept the Sheep Shearer?!


I used to work in public relations in London and then I moved to New South Wales and while working on a farm there I heard the story of Jackie Howe. He's a 19th century sheep shearer who holds the world record for the most number of sheep shorn in a day using blades; which was 321. He's also reputed to have (well, legend has it) that he invented the singlet by ripping the sleeves off his shirt. He essentially created this iconic Aussie piece of clothing and holds this world record (which he still holds) and he's very famous in the farming and sheep shearing community, so I thought, well there's a label there. I just began to think about it and I built the whole thing around that. There're elements of the legend all within the label, for example a lot of the names of things are named after him or terms in the shearing community.!


So are a lot of your designs are inspired by that?


Yeah, the first collection was all very much inspired by that - it was all relaxed and loose. The singlets had raw edging so it looked like they'd just been ripped off and all the colours were a bit more subdued, they were much more toned down, muted colours… I do a flat peak cap with a white logo on the side, there's only 321 of them and they're all numbered on the side so you know which one you've got. The cap comes in a box with a letter explaining the whole story and it comes with a number on the side so it's all a bit of a theatre, but it adds a bit of something to it. So yeah that was the idea and it just went from there and expanded, it's all based around him or inspired by him really.


Photographer: Andre Elhay
Do you revolve your collections around trends or do you do more of what you want to do?



I do a lot of what I like. I've given in to, not so much trends but to certain people's preferences - some people like completely plain and nothing and some people like logo's… The advantage of it being very plain and very basic is that it can appeal to a lot of people, even if it's just beachwear and stuff like that. Everyone needs a pair of khaki chino's, everyone needs a pair of khaki shorts and those tanks are very Australian. I think when you when you see the stuff work together it's like t-shirt and chino's, if you can style it well, it'll actually look really good!


Tell us a bit about the manufacturing process?


We did eight singlets so the singlets were the main thing. three of those colours were turned into T-Shirts like a round neck and then three others were turned into a scoop neck and then three of them were turned into this T-shirt hoodie. This winter, this stuff is a bit different, it was done a bit more on the fly. See the original stuff was made in Sydney, it's all Australian made. All Australian made, minus the caps, which you can't get caps made in Australia.


So Winter manufacturing has been sourced internationally?


Yeah, and the new Summer range. It is sourced through an Australian production company that I use and it is all printed her in Australia but unfortunately the businessman inside of me has to take over when it comes to margins and overheads and when your label is in its infancy like Sheep Shearer, margins matter a great deal. If I can't have the clothes manufactured in Australia then I look to use other Australian business and services where possible for other areas, like printing and sourcing.


Tell us a little about you summer collection?


So summer, summer we're launching at Fashion Aid. It's all very simple and plain again, and it's not very big as I think it's better to keep it to a smaller collection. We're adding a bit more fun into it this time with the T-Shirts. I was actually doing the summer looks the other day and I was seeing what's going on the catwalk and what's going to be paired with what. There's not going to be much accessorising. last year I borrowed shoes and hats and jewellery. I'm not going to do that this year, it's just going to be all about the clothes.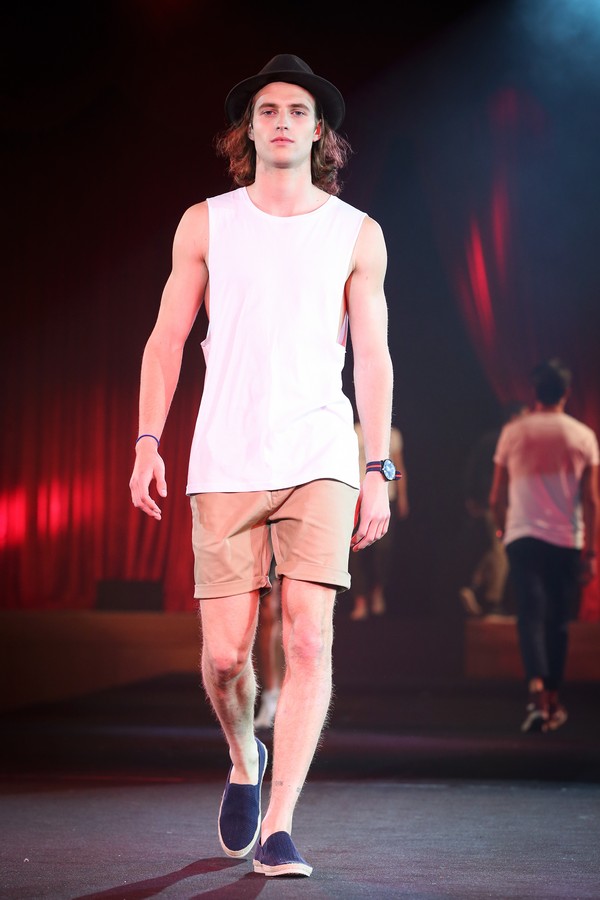 Photographer: Patrik Nemes
What's your favourite thing about owning this brand?
I like creating stuff. I have the world' s shortest attention span, I can never commit to anything and I'm useless at managing myself; but if I sit down and start creating something or designing something… I will sit down for three or four hours and knock it out, I love it. I'll stay up until 2 or three in the morning if I get into it… I've got an eye for things like that. That's what I enjoy the most - creating anything. I love seeing when an order comes through, especially when it's someone you don't know - because you get a lot of friends buying it because they're supporting you. The first time I saw someone who I didn't know wearing it was awesome. What was quite cool is that I got interviewed by Fashion Textile magazine before I'd even launched, because they'd heard of what I was doing with social media. If you look at the beginning of The Sheep Shearer's Instagram it's all looking at different colours and getting people's opinions on seems and things like that. Seeing what people actually thought, so it's getting people to build an emotional connection with the brand.
There's so much competition out there, how do you deal with that pressure?!
I'm always watching other brands but I can't get bogged down in what other people are doing, I have to do my own thing, and if people don't like it then people don't like it. I mean, you're never going to please everybody. So you know, unless you start doing something completely outrageous and start doing something like crotchless shorts or something I don't think you can go too wrong.!
What is your advice to aspiring entrepreneurs in the fashion industry?!
Know what you want. You're more likely to be successful if you believe in yourself and your venture. Watch fashion documentaries, even if you're not doing high-end fashion, if you're doing street wear - watch documentaries, read books read articles. Surround yourself with good people, surround yourself with people that are better than you.!
So what, more knowledgeable than yourself?
Yeah I think you'll take their advice more. I take advice from so many other people. Get yourself out there and see a lot of people. Get yourself business cards, even if you don't have a company yet - with your email address and mobile number on it and just had them out. Don't be afraid, the worst thing thy can say is no. It's that whole thing of being afraid to put your hand up at school because you'll get the answer wrong. Don't worry about it, just fucking do it. I'm answering questions left right and centre.
What's your longterm plan for the brand? Have you thought about going into Womenswear?
I have a big longterm plan. When exactly that's going to happen (I don't know) but there will be kids, womenswear and I want to move into more accessories area: belts potentially shoes, luggage. I've got a bag at the moment but that's just like a more of a sports gym bag kinda thing. But I'm going to look into getting leather bags and canvas bags. There's a lot that I want to do, it's just the pressure of being able to do it. !



Thank you Johnny
be sure to check out Sheep Shearer HERE
 
Special thanks to Maggie from magsibles.com
for doing the final edit.

xxx